According to a KPMG report, $210 billion was invested globally in Fintech in 2021, showing a 68% leap from the previous year. Investments in cryptocurrency and blockchain technologies leapt more than fivefold to $30 billion.
The year 2021 wasn't just exceptional for cybersecurity, but for Fintech as well, with the pandemic changing the way consumers acquire, pay, and transfer money. Some $210 billion was invested globally and 5,684 deals were made in this sector during 2021 compared to $125 billion in 2020, showing a 68% leap, a new report published by KPMG has revealed. Of that sum, $110 billion was invested by venture capital firms, nearly double the amount it was in 2018, where that figure stood at only $53.2 billion. Investments by corporate venture capital funds stood at $50 billion – more than double the amount of $24 billion in 2020. Cryptocurrency and blockchain technologies stood out as prominent areas of investment, specifically in the cybersecurity and payments sectors.
The difficulty in flying or meeting face-to-face forced companies to change the way they purchase services as well as their payment means. This resulted in an abundance of investments in startups that develop payment solutions, with $51.7 billion invested in the payment sector over the past year. The accelerated pace of digitalization, the increased use of touchless payment methods, and the demand to provide alternative payment models, such as the trendy "buy now, pay later (BNPL)" means, transformed the payment sector. The focus on BNPL technologies may be one of the main reasons behind the sheer volume of acquisitions over the past year ($83.1 billion). KPMG estimates that in the future, this sector will retain a significant portion of all fintech investment activity.
.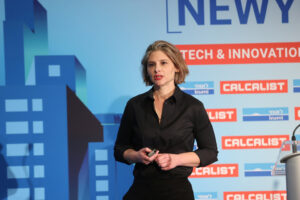 Dina Pasca-Raz of KPMG-Israel. (Photo: Orel Cohen)
Investments in cryptocurrency and in blockchain technologies leapt from $5.4 billion in 2020 to over $30 billion in 2021 – showing a 450% jump. "This sharp growth is additional evidence to the faith that investors – whether private or large entities and enterprises – have in the potential of digital currencies and the solutions based on this technology," said Ilanit Adesman-Navon, Partner and Head of Financial Risk Management at KPMG-Israel.
The cybersecurity arena has seen impressive growth both in Israel and around the world over recent years. The transition to working remotely has seen a dramatic rise in the amount of ransomware and malware attacks on personal computers, leading cybersecurity solutions to increase too. According to the report, investments in fintech-focused cybersecurity solutions doubled last year, reaching $4.8 billion. Since 2018, investments in cyber companies have doubled every year. This figure also has an Israeli angle, with Israel-American crypto company Celsius Network acquiring Israeli cybersecurity startup GK8 for $118 million in November 2021.
.


.
Emerging trends in 2022 see increasing interest in startups that develop solutions in artificial intelligence, machine learning, and automation. Experts at KPMG believe there will also be more mergers and acquisitions of smaller cyber startups by larger enterprises that are interested in expanding their reach. There is also expected to be a rise in enterprise-led investments – especially by regulated institutions such as banks, as well as a continued focus on fraud and money-laundering detection in the payment sector.
As for which trends stood out most in 2021 and those that will continue to be hot in 2022, Dina Pasca-Raz, Head of Technology at KPMG-Israel said: "With the changing trend in global capital markets in relation to young and growing technology companies and those in insurtech in particular, we're witnessing an increasing focus on profitability as an indicator of a company's attractiveness. This trend will also filter into private later-stage funding rounds, and we anticipate that this trend will intensify."
.
March 6, 2022 Published by CTECH Calcalist.