Yaron Shalem, the CFO of crypto lender Celsius, previously worked at Singulariteam, whose founder Hogeg was arrested last week on money laundering and other charges. 
Yaron Shalem, the chief financial officer of cryptocurrency lending platform Celsius, was one of the seven people arrested in Tel Aviv this month in connection with Israeli crypto mogul Moshe Hogeg, CoinDesk has confirmed.
Three sources in Israel confirmed Shalem's arrest. In a tweet Friday, Celsius said it was "recently made aware of a police investigation in Israel involving an employee," without naming the person.
"While this is in no way related to the employee's time or work at @CelsiusNetwork, the employee was immediately suspended. We have also verified that no assets were misplaced or mishandled," the tweet said.
Court proceedings in Israel generally take place in public, except under certain extenuating circumstances when a gag order can be placed on an investigation to protect the identity of individuals involved, as is the case with the people that are part of the Hogeg investigation.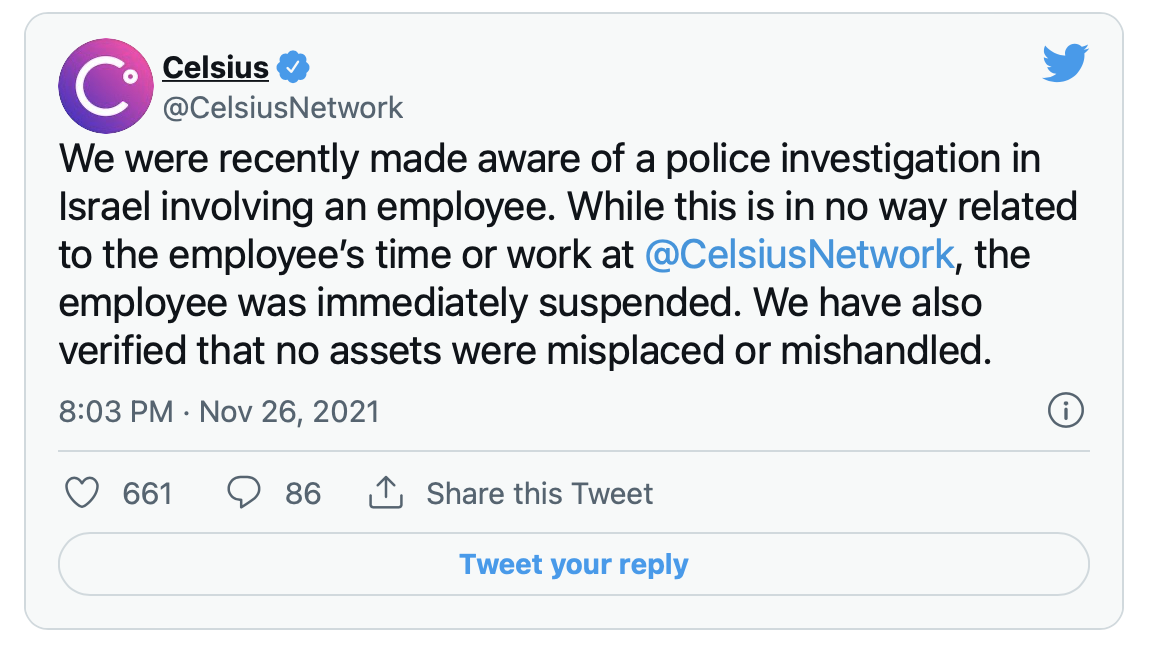 Shalem's name was included – along with 17 others, including Hogeg's – in an appendix to a document bearing the letterhead of the Israel police's national fraud investigation unit. The page, reviewed by CoinDesk, was stamped Nov. 15 by Judge Erez Melamed of the Rishon Lezion Magistrate's Court. It is not clear from the appendix what kind of document it was attached to. However, the date on the stamp is three days before Israeli police said they had arrested eight individuals, including Hogeg, on suspicion of money laundering, fraud and sexual assault.
Celsius did not respond to requests for comment. Calls to Israeli police were answered with a prerecorded message, or not at all. When CoinDesk called the number listed for a Yaron Shalem in Tel Aviv and asked for him, the person who answered hung up.
In an "ask-me-anything" on Twitter late Tuesday, a Celsius staffer said he could not confirm or deny whether Shalem was one of the former Hogeg associates to have been arrested.
Shalem joined Celsius earlier this year. From January 2014 to March 2018 he worked as CFO for Singulariteam, a venture capital firm launched by Hogeg.
It is not clear what charge(s) Shalem was arrested on. Also unclear is who were the other six individuals who were reportedly arrested along with Hogeg.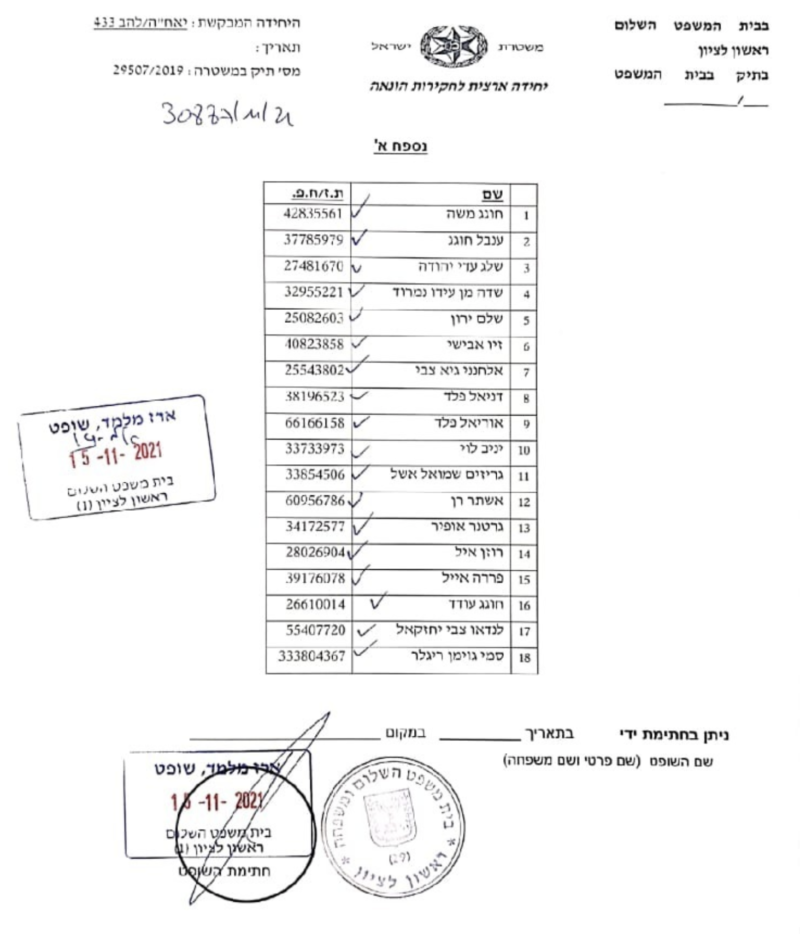 Hogeg has been involved in controversy in the past, much of it dating back to the initial coin offering (ICO) boom of 2017. Shalem was named in a lawsuit against Hogeg back in January 2019, brought by Chinese investor Zhewen Hu, the Times of Israel reported.
Alex Mashinsky, Celsius' founder and CEO, was an advisor to Hogeh's Sirin Labs as recently as 2019, according to an archived version of the latter startup's website.
Celsius has had its own share of troubles in recent months. In September, securities regulators in the U.S. states of Texas and New Jersey put Celsius under the microscope, alleging the company's lending product qualified as an unregistered security.
.
By Ian Allison, November 26, 2021, published on coindesk