Hussein Salem became a symbol of cronyism and corruption during President Hosni Mubarak's three decades in power. Leaked bank data shows that he held accounts at Credit Suisse for years, even after public accusations of bribery and fraud.
Key Findings
Over the course of four decades, Salem held at least 12 accounts at Credit Suisse, some of which contained tens of millions of Swiss francs.

One of these accounts remained open for years after German authorities alerted the bank that it may have been used to pay kickbacks in one of the country's biggest ever fraud cases.

Salem opened other accounts, which have not been publicly revealed before, despite his name being publicly linked to a major fraud case in the U.S. around the early 1980s.

Some accounts remained open after the Arab Spring protests while Salem was being investigated for corruption in three countries.

For two and a half decades, the owner of account 750191 at Credit Suisse remained hidden.
.
Then, in 2000, German authorities managed to link the account to one of the biggest frauds in the country's history. The owners of a drilling equipment maker called FlowTex had just been arrested for securing loans worth over 2 billion euros for gear they never made. Company records showed its co-founder had received over 4 million Swiss francs in possible kickbacks from the Credit Suisse account.
When investigators pressed Credit Suisse on its owner, the trail led them far away from Germany: The account was held by Hussein Salem, an Egyptian businessman with deep ties to the country's ruling elite and intelligence establishment.
.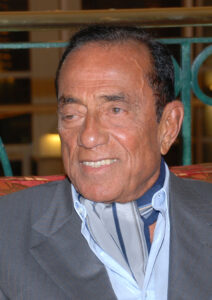 Hussein Salem in 2009.
Already for years at that point, Salem's name had been associated with major scandals and accusations of grand corruption, including charges of defrauding the U.S. government in the 1980s. In Egypt, his name would become a symbol of the cronyism and sweetheart deals that pervaded President Hosni Mubarak's rule and drove many to take to the streets during the Arab Spring uprising of 2011.
Records obtained by German investigators showed that Salem had used account 750191 to pay millions of dollars in suspected kickbacks to FlowTex's co-founder. They believed the payments were related to a deal to provide machinery for a refinery Salem co-owned in the Egyptian port city of Alexandria. But they did not pursue charges against Salem since their focus was on the FlowTex executives. Salem also never faced prosecution over the case in Egypt, where he had powerful friends.
Nor, apparently, did the investigation affect Salem's ability to remain a Credit Suisse customer. Not only did account 750191 remain open for over a decade after the scandal, but its balance increased by tens of millions of Swiss francs in the three years after the German investigation.
The Suisse Secrets investigation, coordinated by OCCRP and based on a trove of banking data leaked to Süddeutsche Zeitung, has found that account 750191 was not the only account Salem opened at Credit Suisse. In total, he opened 11 more between 1983 and 2010. Several remained open in 2015, well after Salem was charged in multiple corruption trials in Egypt.
.


.
Spanish investigative documents also show that he actively used some accounts at the Swiss bank to transfer millions of dollars out of Egypt as the 2011 anti-government protests were under way.
Salem has long been known to bank at Credit Suisse. The existence of account 750191 was reported when the FlowTex case came to light, and German journalist Meinrad Heck reported extensively on Salem's account in 2011. But details of its activity after 1999, and the other accounts belonging to Salem and his associates, have not been made public before.
Credit Suisse declined to comment on specific questions about Salem. But in a statement it said it "strongly rejects the allegations and inferences about the bank's purported business practices" of the Suisse Secrets investigation and that "actions have been taken in line with applicable policies and regulatory requirements at the relevant times, and that related issues have already been addressed."
"The matters presented are predominantly historical, in some cases dating back as far as the 1970s, and the accounts of these matters are based on partial, selective information taken out of context, resulting in tendentious interpretations of the bank's business conduct," the bank said.
.
Read the bank's full statement here.
.
Salem died in 2019. His former lawyer, relatives, and business associates did not respond to calls and messages seeking comment on the accounts.
Salem faced a reckoning after the 2011 Arab Spring protests deposed Mubarak, his longtime friend and benefactor. Corruption charges were brought against him in Egypt and he was convicted in absentia of profiteering and money laundering, among other charges, after he fled to Spain. The sentences included multiple prison terms and over $4 billion in fines, but they were mostly cleared after Salem struck a 2016 deal with Egyptian authorities to repay hundreds of millions of dollars to the state.
Salem's Swiss assets were frozen after the Arab Spring revolt, although Swiss authorities have not said specifically what was frozen.
.
February 22, 2022, published by The Organized Crime and Corruption Reporting Project.