Dr. Shlomit Wegman Ratner, head of the Anti-Money Laundering and Terrorist Financing Authority, calls for legislative amendments following Calcalist investigations into police use of NSO spyware, convinced that the economic aspect of criminal organizations is a game changer, and wants to get hold of billions of shekels rolling In the changes in Arab society.
Shortly after midnight, one night in late February, the head of the Anti-Money Laundering and Terrorist Financing Authority (Rashla'a), Dr. Shlomit Wegman Ratner, found herself in one of the Arab villages in the Galilee, knocking on police and tax authorities' doors – one of many A night raid was carried out. This was the final chord, the "break-in," as the open arrest phase is known after an undercover investigation, during which Targeta networked straw companies that served as cover for money laundering offenses worth hundreds of millions of shekels.
Rashla's analysts tracked financial movements in the accounts of the suspicious companies, mapped the network and provided financial intelligence that helped build the portfolio. "We went into the house, the forces started looking for documents, and what they found showed one by one the network of companies rolling in billions that we located and drew for many months. The highlight was that in a search of the trash can outside the police found a box full of fictitious invoices. If once the criminals used to take drugs down the toilet or throw weapons out the window, today what they throw away are invoices and paperwork – and we caught them, "says Wegman Ratner in an exclusive retirement interview with Calcalist.
"What has intensified dramatically in recent years in Israel is what is known as the 'Model Capone.' We are attacking the economic axis and through it we are succeeding in thwarting the infrastructure that predicts crime and violence in Arab society, "she explains. "We are looking for those who manage the funds for the criminal organizations that extort sponsorship fees and other professional money launderers. There is currently no investigation in the State of Israel that has an element of money for which an economic investigation is not conducted through Rashla and mapping of where the money is. "We see that this is what deters the criminals, because once they are taken the money – they can no longer run the criminal organization, and the approach led by the Polo de Mani authority proves itself."
.
But in the meantime crime and violence as well as the black economy in Arab society are continuing vigorously.
"All the criminal organizations that were until five years ago the main ones in the general society, and ruled here – are today busy managing their affairs in the courts and prisons. But a vacuum was created into which the criminal organizations in Arab society entered, which until then had operated mainly in the Arab region and expanded to the whole country. In the last two years, we have begun to use against them the same tools of economic enforcement that we have applied to the criminal organizations in Jewish society – and this is something that takes time, and does not happen in one day. This is a company with a different code of conduct than we are used to: a bond of silence, family clans that are harder to penetrate, a lot of cash activity, billions rolling in unregistered and unsupervised changes, and activity with Arab countries that Israel finds more difficult to enforce. All this led to under-enforcement in Arab society, and when we started dealing with it, it was very difficult for us. But all the enforcement bodies went into it in depth together, and in a short period of time a lot of actions were taken from information that Rashla provided. Two of the leaders of the criminal organizations fled the country after we entered their businesses, took money from them and disrupted their activities. "When we attack them financially, it's a game changer."
.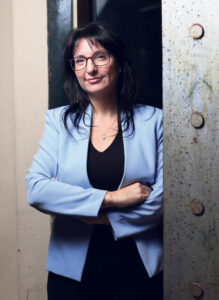 Dr. Shlomit Wegman Ratner
Shlomit Wegman Ratner. "I do not think that the same tools and technologies developed for the fight against terrorism and for security purposes against civilians should be used"
.
What has changed?
"We have been able to significantly increase our financial intelligence and refine it. A check that rolls through the system runs on an ecosystem and eventually reaches some factor on our radar, and our expertise is to track it. Once we started focusing on the activity we were able to identify typologies, action patterns and make connections. At the same time, the report we receive from Changes has increased by hundreds of percent – from about 500 unusual reports a year with the start of my term to about 72,000 today. These are intelligence paraphrases – and it breaks equality. "
.


.
"The burden of proof will shift to the offender"
Today, as part of the fight against crime declared in Arab society, an inter-ministerial committee headed by Finance Ministry Director General Ram Blinkov is examining ways to fight black capital. Among other things, it is formulating a proposal to limit cash holdings to an amount of up to NIS 200,000. Wegman Ratner, a member of the team, opposes this. "I think this determination will mainly lead to an additional burden on the normative public that obeys the law, and it will not necessarily lead to a change regarding the criminal elements who will in any case find ways to circumvent the restriction. Very quickly there is a shift to parallel things that not everyone is under supervision, such as gold, diamonds, real estate, crypto, since there is no vacuum. It may seem like a magical solution at first glance, but unfortunately, we do not think it will have a significant impact on the perpetrators of the crime and the criminals. "
.
What do you propose?
"In our opinion, the main problem with cash is not necessarily its maintenance. Enforcement should be increased regarding the use of cash in transactions, and we think that a new obligation should be added to report cash holdings above an amount to be determined – not only to the tax authority but also to the RSLA. Then there will be a place where the norms will be reported while against the offenders who do not report – if we seize cash from them – we can take action. At the same time I am in favor of adopting a mechanism that exists in English law called 'unexplained wealth' that gives civil authority to law enforcement, that if they see criminals a high amount of unexplained cash – the burden of proof shifts to the person, to show how he obtained the cash. If he can not show and explain – it is possible to seize the money without proving that it comes from a transfer P.Lilith ".
Wegman Ratner, 45, who has headed Rashla since 2016, is one of the most prominent and energetic managers in the public service. At the same time, she served for about two years until the end of 2021 as acting head of the Privacy Protection Authority. The two authorities under her administration became more dominant and she was able to advance legislative amendments to strengthen their powers. Although Israel is still considered a money laundering paradise and the black economy is very widespread, Wegman Ratner led many actions in the struggle against it, which moved Israel from the doorstep to the FATF blacklist (the organization outlining the international rules for combating money laundering) to the reputed country Outstanding in its war in the field, according to international standards. When it came to this Rashla, it had about 60 employees and during its time the authority doubled its workforce to more than 130-75% of them women, including in the senior management positions in the authority. "We set up an exceptional unit in the public service, a kind of patrol with a high-tech spirit," she says. "We have jumped a generation in the field of technology, our products have doubled 5 times, and we are one of the three most effective money laundering authorities in the world."
.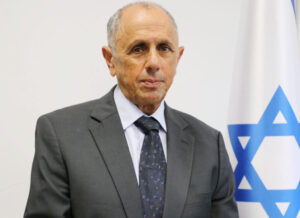 Ram Belnikov, Director General of the Ministry of Finance
An inter-ministerial committee headed by Finance Ministry Director General Ram Blinkov is examining ways to fight black capital.
This weekend, as soon as she finished her job, she packed up the family and traveled for six months to Boston. She will serve as a visiting researcher and lecturer at Harvard. "I decided to take a moment to breathe after not sleeping for ten years, almost literally," she says.
In the events of the police affair and the NSO that exploded in the Calcalist investigations, Wegman Ratner watched from the sidelines as wearing both the privacy protection hat and the hat of the management of an intelligence enforcement authority.
.
Did you know that the police use cyber software, including Pegasus, that infiltrates phones remotely?
"I did not know. But even in my hat as the head of the Anti-Money Laundering Authority, I do not know and should not know all the intelligence systems of the police that are used in its investigations. "
.
Do you have any lessons from this incident?
"I do not know the details, but the investigation of the affair by the Merari committee is in progress, and I suggest waiting for the final findings. Meanwhile, the interim report indicates that there was no lateral or systematic action, and even where there was a spot deviation from the orders issued, it was probably due to technical reasons and no extra information was used. However, what is already clear on the subject, since horizontal amendments to the legislation are needed in line with technological developments. There is no doubt that the laws today are not sufficiently up-to-date and do not address the new technologies that the law does not necessarily apply to – and this may create gaps and misunderstandings. It is therefore necessary to amend the law and alongside the necessary legislative amendments one can also think of a mechanism for concentrating sensitive information in a dedicated body that will specialize in this and will know how to filter and convey to the investigating bodies only what is relevant. "The tension between the activities of law enforcement agencies and the protection of privacy can certainly be settled through appropriate solutions."
.
How for example?
Rashla is exactly the example of this, because it was established from the beginning as a body that collects sensitive information and serves as a buffer between it and the enforcement bodies. That is, the information is kept in a neutral body that transmits it to the enforcement and security bodies only in cases where there is suspicion according to very clear criteria that exist in the law. It may be possible to replicate the Rashla'a model to other areas such as the extraction of sensitive materials. Because the technological tools while pumping the information on the phones have difficulty filtering the information against the order.
"Barshala" A large part of the existing database is about innocent citizens, very sensitive information that should not be reached and will never reach the enforcement bodies. The human eye does not see most of this information because we do searches and cuts using advanced technology systems that cause an analyst to not see information unless it is specifically linked to the relevant portfolio. "After that, every intelligence paraphrase we issue is personally signed by me as the head of the authority and it is examined whether there are really suspicions and whether there is a reason to pass on this information."
.
Do you think it is right to allow the police to use cyber software with the potential to violate individual rights?
"Dealing with criminal organizations is a complex and difficult thing. They are not suckers, and use all the most advanced techniques – so it is necessary to make sure that law enforcement agencies can deal with the most sophisticated offenders. However, since this is an activity against civilians as opposed to security activity – there are very clear limitations that need to be met. I do not think that the same tools and technologies developed for the fight against terrorism and for security purposes against civilians should be used. I think that actually raising the issue to the agenda – this is an opportunity and a golden opportunity to have a real public discussion about what the boundaries should be in the legislation and shape them according to the balance that is adapted to the information age in protection of privacy. "
.
"Come in and make an order"
Another issue that has been of great concern to Wegman Ratner is the regulation of the field of virtual assets and crypto. "In order for it to be a legitimate financial instrument, it must be ensured that it is carried out in accordance with international rules, which Israel participated in formulating, so that it does not pose a risk of money laundering," she says. "As of November 2021, legislation we passed that requires bodies to apply for a license came into force, and if they do not have a license, they are not allowed to operate here. The domain is beginning to be monitored and this makes it possible to make it legitimate. In our view, NFT activity is also subject to this regulation. Today, a significant part of the activity in the NFT is in fact money laundering. We are studying the activity to address it."
"We also need someone who actively monitors the sector," she said. Therefore, a bill is expected to be published by Justice Minister Gideon Saar, who authorizes Rashla to be the body that will oversee the entire field of crypto as well as the field of banquets (financial service providers) – the changers.
.
The changes have been settled and are also under the supervision of the Capital Market Authority, right?
"For years, the changes have been overseen by the capital market authority, which requires conditions for obtaining a license to work in the field. However, their activity has grown greatly in recent years, and covers about NIS 230 billion a year. The Capital Market Authority makes almost no reviews, because in practice it concentrates on examining the licenses, and does not have the capacity to monitor on such a huge scale, so a factor is needed that will be more involved in the ongoing monitoring of change activities to ensure they are not misused for money laundering or terrorist financing. Emphasis on Arab society. Until someone comes in and puts the parties in order in Arab society, the problem of the black economy there will continue to operate and fuel crime and weapons.
Rashla'a will soon be given powers and will enter the field in a more focused and directed manner in criminal activity. We will enter with all our might in those unregistered banquets, which we estimate are large in number, and we will make an order there. We believe that in a few months we will be able to set up an array that will carry out hundreds of reviews. "
.
What next? Senior management position in the private sector?
"I still do not know what the next stop is. All the options on the table for me. I'm going out to freshen up at the academy and when I get back from Harvard I will decide. It is clear to me that at some point I will return to government service, because my heart is in the public service, but I am not sure now. I see importance in synergy and in seeing how it feels in the private sector as well. "It's not easy to run government offices with both hands tied behind your back, you have a blindfold, you can not usually choose your employees, management staff and budgets – but those who succeed in civil service management can probably succeed in management in general."
.
March 11, 2022 Published by The Globes.