Singapore's money remittance sector poses the highest risk of being exploited for terrorism financing, followed by the banking sector.
MAS (Monetary Authority of Singapore) on 30 December released Singapore's Terrorism Financing National Risk Assessment for 2020, outlining key TF (terrorism financing) threats and vulnerabilities to the city-state.
The Assessment found that Singapore continues to be exposed to threats posed by terrorist groups both regionally and internationally, in particular the propensity for individuals in Singapore to be radicalised and influenced to carry out TF activities.
.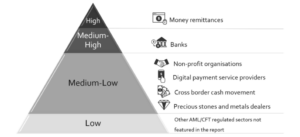 TF Risk Ratings, Source: Singapore Terrorism Financing National Risk Assessment 2020
.
The money remittance sector poses the highest risk of being exploited for TF, due its high volume of cross-border flows to countries that are more exposed to terrorism / TF risks, coupled with varying levels of capability to detect TF across the sector.
While improvements in the money remittance sector's level of risk awareness and AML/CFT controls have been observed over recent years, MAS will continue to engage the sector to further strengthen its awareness of TF risks and their AML/CFT obligations.
The banking sector was identified as posing the second highest risk of being exploited for TF, although no such cases have been detected locally to date.
The reasons cited for this assessment were Singapore's exposure to large international money flows, its geographical proximity to countries with active terrorist activities and terrorist groups, and its highly accessible and efficient online financial services.
In addition, there are challenges to differentiating TF transactions, which are typically small value and funded through ordinary means such as salaries or savings, from normal financial activity.
"While banks' TF risk awareness and AML/CFT control measures are generally well developed, it is important to continue engaging the banks," MAS says. "This will enable them to keep abreast of the latest TF risks and typologies, and adopt relevant risk mitigation measures."
A TF thematic review of remittance agents and banks will be conducted to test their risk understanding and examine the effectiveness of their controls to detect and deter TF-related fund flows.
As part of the review, MAS will examine the effectiveness of banks' processes, controls, and monitoring capabilities in relation to detecting and tracing fund flows linked to terrorist activities and responding quickly to authorities' information requests and directions.
The Assessment also describes TF risks and vulnerabilities posed by non-profit organisations, digital payment token service providers, cross-border cash movement, and precious stones and metals dealers.
.
By Manesh Samtani, January 12,  2021, published on Regulation Asia