Spectacular skyscrapers, luxury lifestyles, and sunny beaches — these are the hallmarks of Dubai, a Middle Eastern financial hub known as a playground for the global rich. But the glamorous emirate also has a darker reputation as a tax haven, a top destination for illicit cash, and a preferred hub for money laundering, often through real estate.
Now, a new leak of Dubai property data has exposed just how many foreigners have poured their money into apartments and villas there.
The data, which dates from 2020, was obtained by the Centre for Advanced Defense Studies (C4ADS), a non-profit organisation based in Washington, D.C., that researches international crime and conflict. It was then shared with Norwegian financial outlet E24, which coordinated an investigation into the real estate.
The leak provides the first detailed public overview of those who bought property in this important Middle Eastern financial center. In this initial phase of the project, reporters focused on the European names on the list.
Many of them are residents or legitimate investors. But reporters identified numerous owners of Dubai real estate who have been accused or convicted of crimes or are under international sanctions. Others are public officials whose ownership of pricey properties is difficult to square with their known incomes.
They include more than 100 members of Russia's political elite, public officials, or businesspeople close to the Kremlin, as well as dozens of Europeans implicated in money laundering and corruption. Several European officials and lawmakers who have been accused of mishandling public funds are also among the listed owners — and some have failed to officially declare their Dubai properties.
.
The Dubai skyline.
Among the noteworthy figures who own Dubai real estate are Ruslan Baisarov, a Russian businessman close to Chechen dictator Ramzan Kadyrov, and Alexander Borodai, a sanctioned member of the Russian Duma known for becoming "prime minister" of the self-proclaimed Donetsk People's Republic during Russia's 2014 invasion of Ukraine.
Other Russians with Dubai properties include Roman Lyabikhov, a U.S.-sanctioned lawmaker from the Communist Party, and Dmitry Rybolovlev, a controversial oligarch.
Among the Europeans is Daniel Kinahan, the alleged leader of an Irish criminal group involved in cocaine trafficking and other crimes. He is known to be based in Dubai, and was sanctioned by the United States last month.
Another is Czech citizen Tibor Bokor, the executive director of a cryptocurrency exchange that was sanctioned by the U.S. Treasury last year for enabling criminals who had obtained money through ransomware to transmit their illicit proceeds. Miroslav Výboh, a Slovak fugitive from corruption charges, is another alleged criminal who is listed as owning Dubai real estate. He is believed to be hiding out in the emirate.
Baisarov, Borodai, Bokor, and Lyabikhov did not respond to requests for comment. A lawyer for Výboh confirmed his ownership of a Dubai apartment.
These individuals' presence in Dubai's real estate market registries highlights the danger that the emirate's loose residency requirements and "few questions asked" approach to regulation enables questionable figures to use it as a home away from home, a place to launder their illicit gains through real estate, or simply to store their wealth.
.


.
"Real estate is unique when it comes to money laundering because, unlike any other form of money laundering, you actually can live in and do business through your money laundering," said Jodi Vittori, a professor at Georgetown University and expert on illicit finance.
Dubai is one of the world's most secretive offshore jurisdictions, mainly due to lack of financial transparency, according to The Tax Justice Network.
The advocacy group ranks the United Arab Emirates, which includes Dubai, as one of the world's top ten enablers of both corporate tax abuse and financial secrecy.
"Dubai has an ask-no-questions, see-no-evil approach to commercial and financial regulation, as well as foreign financial crimes," the group wrote in a 2020 assessment. "It has consequently attracted large financial flows and some of the world's most high-profile criminals.".
.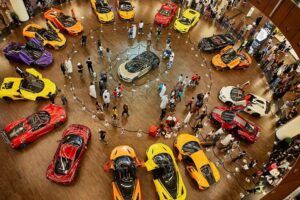 A display of luxury cars at the Dubai Mall, the largest in the world.
The United Arab Emirates also does not have an extradition treaty with the European Union, the United States, Germany, or many other countries. In practice, this means wanted criminal suspects can hide out in Dubai to avoid facing justice.
Representatives of the United Arab Emirates' Foreign Office and the Dubai Land Department did not respond to requests for comment in time for publication. But the UAE Embassy in Oslo did provide a statement to E24, OCCRP, and their media partners.
"The allegations made with regard to Dubai property ownership records are factually inaccurate. The UAE operates clear regulatory frameworks that comply with international laws and standards designed to combat financial crime," the Embassy said. "Dubai Land Department processes and activities are a cornerstone of these efforts."
.
May 3, 2022 Published by The Organized Crime and Corruption Reporting Project.