Documents leaked to ICIJ tie the Kinahan organized crime cartel to companies and enablers in the Middle East's top secrecy haven. In the world of boxing, Daniel Kinahan packs a heavy punch, having managed some of the sport's biggest names and launched one of its most influential companies, MTK Global.
Outside the ring, the native Dubliner has earned a reputation as a heavyweight in a more extreme arena. Authorities in Ireland, the United States and other countries accuse him of running a deadly global drug cartel along with other members of his family. This month, the U.S. Treasury Department sanctioned Kinahan, two relatives and four associates and vowed to use "every available resource" to dismantle the cartel's networks.
"Countering transnational organized crime is an urgent priority for President [Joe] Biden and the U.S. government," said Claire Cronin, the U.S. ambassador to Ireland, at a news conference announcing rewards of up to $15 million for information leading to the arrest and conviction of Kinahan, his father and his younger brother.
At the core of the cartel's operations, according to an investigation funded by the European Union, are dozens of front companies that help move heroin, cocaine and other drugs, and launder the proceeds from their sale. The group followed the Mafia's example, setting up food businesses to move drugs and launder dirty money and using real estate investments to hold illicit goods, the inquiry found.
Leaked records reveal that Kinahan set up several companies that share some of these characteristics in the United Arab Emirates, a federation of seven Persian Gulf states including Dubai. This was accomplished with the approval of local authorities and the help of at least two local intermediaries who became the on-papers owners of a majority share in the businesses.
.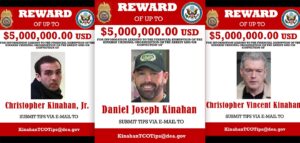 U.S. authorities issues wanted posters for members of the Kinahan family.
Kinahan and his younger brother established Dubai companies to trade in food, clothing and textiles and provide business services, incorporation documents and other records show. The Kinahans also formed management and aviation consultancies in Emirati free zones, areas with business-friendly tax policies. All were created with the help of UAE partners.
The leaked records, obtained by the International Consortium of Investigative Journalists and shared with the Irish Times, also describe previously unknown ties between MTK Global, which promotes boxers around the world, and Ducashew Consultancy, a key Kinahan company that has been sanctioned by the U.S.
Sandra Vaughan, a Scottish businesswoman, is a onetime owner of MTK Global and a director of Ducashew Consultancy, which is also based in Dubai, records show.
The UAE is home to a thriving trade in financial secrecy. It allows owners of shell companies to mask their identities and has created internal "free zones" that provide even more jurisdictions to hide in within a shadowy and disorganized regulatory system.
Despite the heavy media coverage of the Kinahan drug cartel, UAE authorities allowed Daniel Kinahan and his younger brother, Christopher Kinahan Jr., to form several companies, concluding that they were "low risk."
For years, despite allegations of a transnational criminal organization, Kinahan lived an active public life. On social media, he poses before shimmering skyscrapers, in state-of-the-art gyms and by azure waters. He managed some of the world's premier boxers, including Tyson Fury, a two-time world heavyweight champion, and he mingled with royals and politicians.
He co-founded MTK Global — short for Mack The Knife — in 2012 and set up a boxing base in the Emirates. The company, which operated in 11 countries and represented several top boxers and mixed martial arts fighters, was not accused of wrongdoing by the U.S. government and was not listed among the sanctioned companies linked to the Kinahans.
MTK Global has said that Daniel Kinahan is no longer involved in the firm, a contention that others in the industry have disputed. Media reports have linked the cartel to the boxing business. On Wednesday, the firm announced that it was ceasing operations, complaining of "unfair scrutiny and criticism" after U.S. sanctions were imposed on the Kinahan family.
Beyond the creation of the Dubai companies, the Emirate has been a personal haven for Daniel Kinahan and his associates. Six of the seven Irish nationals cited in the U.S. Treasury Department's sanctions announcement have addresses in Dubai. The leaked records obtained by ICIJ have details about apartments and offices tied to Daniel and Christopher Kinahan Jr..
A rental agreement states that the brothers paid about $50,000 in 2016 to rent a two-bedroom apartment on the 14th floor of the Iris Blue, a 36-story luxury high-rise.
Earlier this month, U.S. authorities said Daniel Kinahan lives on Dubai's Palm Jumeirah artificial islands, where international celebrities swarm and apartments cost millions of dollars. The newly sanctioned Russian oligarch Roman Abramovich, who is under orders by England's Premier League to sell his celebrated Chelsea Football Club, may soon call the neighborhood home, according to Reuters.
The UAE was recently placed on a "gray list" by the Financial Action Task Force, the world's anti-money-laundering watchdog, putting new pressure on banks and governments to scrutinize more closely the money and business that goes through the Emirates.
Dubai's man-made Palm Jumeirah archipelago. Image: KARIM SAHIB/AFP via Getty Images
The United States has largely avoided criticizing the Persian Gulf nation, a key Middle East ally. Yet in announcing the new sanctions against the Kinahan cartel, the U.S. didn't spare Dubai. The Treasury Department described Dubai "as a facilitation hub" for the cartel's "illicit activities."
The sanctions against Kinahan appear to have spurred the Emirates to take action.
In response to ICIJ questions, the government's press office said the UAE "has been working proactively on its own investigations, and as a result of this all relevant assets have been frozen."
"The UAE takes allegations of criminal activity extremely seriously," the office said.
Christopher Davidson, an associate fellow at the Henry Jackson Society, a U.K.-based foreign policy and national security think tank, said the UAE was walking a "tightrope," as it tries to convince the U.S. that it is a "responsible partner," while still maintaining its reputation as a no-questions-asked haven for wealth.
Kinahan did not respond to requests for comment. In a lengthy public statement last year, he said, "I have dedicated myself to my work in boxing for the last 15 years."
He added: "My success has led to a campaign against me. … I am not a part of a criminal gang."
.
Flight to Dubai
Shortly after 2 p.m. Friday, Feb. 5, 2016, a boxing weigh-in at the Regency Hotel in Whitehall, roughly halfway between Dublin city center and the Irish capital's airport, turned into a bloodbath.
Two men disguised as Emergency Response Unit team members of the Garda Siochana, the Irish national police force, stormed the promotion for the World Boxing Organization's European lightweight title fight, brandishing AK-47 assault rifles.
Two more gunmen — one in women's clothes, makeup and a garish wig — pursued a key Kinahan lieutenant, David Byrne, through throngs of boxing fans and passers-by, including women and children.
A group called the Hutch gang had launched an attack on the Kinahans, and with that attack, Ireland — a country with a history of political violence — was introduced to military-style narcoterrorism.
Irish authorities said they believe that Byrne, 32, was killed as he stopped in a hotel corridor to see if his boss, Daniel Kinahan, was safe.
Byrne's murder and the shooting of two other people at the boxing promotion sparked  the biggest gang war in Irish history. "The frequency and barbaric nature of many of the attacks that followed were unprecedented," veteran Irish Times crime reporter Conor Lally told ICIJ.
.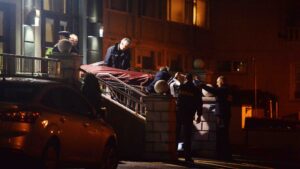 A group called the Hutch gang attacked the Kinahans during the weigh-in for a boxing match at the Regency Hotel in Dublin on Feb. 5, 2016, killing David Byrne, a key lieutenant of the drug gang.
Daniel Kinahan escaped the hotel raid unscathed, and fled to Dubai. His father, Christopher  Kinahan Sr., who has served prison terms in three countries, and his younger brother were waiting for him.
The U.S. Treasury Department said this month that Christopher Sr. manages the cartel's properties, sometimes employing fake identities. Daniel, it said, runs the day-to-day operations and manages the supply chain of cocaine sourced from South America and smuggled into Europe. And Christopher Jr. is involved in logistics and managing a fund used to pay the gang members, according to the department.
One of their Dublin lieutenants, Sean McGovern, wounded in the Regency Hotel attack, fled to Dubai to join them.
Described by Treasury as Daniel Kinahan's adviser and "closest confidant" and as the seller of "multi-kilogram quantities of cocaine," McGovern was sanctioned with the Kinahans. A European arrest warrant for McGovern was issued this month. He is wanted for murder.
.
Home away from home
Dubai, with its free zones, skyscrapers and palm-bordered pools, is far from killing teams in the Dublin suburbs. There, clients who prefer to keep their intentions under wraps are welcomed.
In October 2016, the EU-funded probe of the Kinahan cartel identified more than 200 companies in 20 countries connected to criminal activity. "Food-trading companies, bars, and restaurants were set up in Ireland, Spain and the UK for laundering and functional purposes," the investigation found.
A month later, Daniel and Christopher Jr.  established a company and a branch under the name Haizum General Trading Co. LLC in different UAE jurisdictions. The company, according to a contract in the leaked records, would trade clothing and textiles. The branch, based at Jumeirah Lake Towers and incorporated in a special tax zone known as the DMCC, would trade pasta, sugar, cooking oil and other foodstuffs.
The application to incorporate the company branch in the DMCC was submitted in November 2016 by Sarfraz Ali Riast Ali, a Pakistani national based in Dubai. Earlier that month, the Kinahan brothers granted him power of attorney to act for them or any of their companies in the UAE, records show. Riast Ali, who could not be reached for comment, was also authorized to open offices, branches or agencies for any Kinahan company inside or outside the UAE.
Until recently, laws governing who could open a business in the UAE stipulated that an Emirati partner must own more than 50% of the shares. The local partner could help with bureaucratic issues, use connections to pursue new business and provide cover with UAE financial institutions, which tend to  to ask fewer questions if the client is a national.
Both Haizum General Trading and its branch in the DMCC free zone were established with the help of a UAE national named Hadif Al Ktebi. Records show that he listed a Jumeirah Lake Towers address, and he has the name of one of the largest Emirati families, from which Fatma Al Ktebi, known as the "mother of the UAE," descends. Hadif Al Ktebi could not be reached for comment.
Despite heavy media coverage of the Kinahan drug cartel, Dubai authorities approved  the incorporation of the free zone branch after a due diligence report declared Daniel and his brother to be "low risk." The report concluded, "Okay to proceed." Daniel's share in the parent company  was 30% and his brother's 19%, with the rest — the majority stake — owned by Al Ktebi.
ICIJ obtained a copy of a contract — written in Arabic and signed by the three shareholders — relating to the textile company. It says the company had starting capital of about $100,000.
A second document, the "business plan" for the food branch, describes its purpose as importing food from Brazil, Thailand, India, China and East Africa to Persian Gulf countries and beyond.
.


.
"We also hope to eventually expand into the trading of edible oil, pasta, and even poultry, if we happen to line up potential leads, prospective clients, and profitable deals for these products," the business plan says.
The company's financial target was about $6.8 million for the first year, the documents say. The shareholders had several other "supporting" businesses in the UAE, and were "keen on expanding the size and scale of their operations in the coming year."
The objective in setting up the operation in the DMCC, according to the records, was to have an international sales office, promote the Haizum business and trade "in various agro-commodities all over the world."
"We plan to incorporate the company with a physical office from the get go, as we expect to employ a workforce of seven employees," the business plan says.
The Haizum General Trading operations do not have an active website, and attempts to contact people associated with them were unsuccessful. UAE authorities did not respond to questions about the businesses. It isn't clear whether they are active or ever were.
.
No longer in the corner
Before as many as 90,000 fans, self-titled "Gypsy King" and reigning World Boxing Council Heavyweight champion Tyson Fury will defend his title Saturday against Dillian Whyte at London's Wembley Stadium. Fury will step into the ring without a key adviser: Daniel Kinahan.
Fury a​​nd International Boxing Federation flyweight champ Sunny Edwards are two of many boxers who have sung the praises of Kinahan.
Fury was pictured with him in February on the rooftop of the Shatha Tower in Dubai as a poem was read in honor of Fury. Kinahan reportedly pocketed millions of dollars from each of Fury's last four fights.
When asked about the latest international crackdown on the Kinahan cartel, Fury told Ring Magazine: 'It's none of my business, and I don't get involved in other people's business.'
.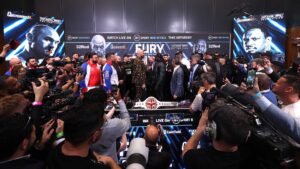 Tyson Fury, left, and Dillian Whyte, right, face-off during the press conference prior to their WBC heavyweight championship fight at Wembley Stadium.
In stark contrast, Daniel Kinahan has been making Tyson Fury's business — boxing — his business for years. Kinahan founded MTK Global with former Birmingham-Irish professional boxer Matthew Macklin, who is not under investigation.
In 2017, Sandra Vaughan, who made her name as the owner of a self-tanning  company called Fake Bake, purchased MTK Global. Vaughan had an unusual personal connection to the Kinahans. Her former partner, Kevin Kelly, a convicted drug dealer and onetime Fake Bake director, was reportedly kidnapped in 2012 by members of the Kinahan gangin Spain.
Vaughan has repeatedly distanced MTK Global from the Kinahan cartel, even as she expressed gratitude to Daniel Kinahan for recommending that "some really good fighters come to MTK."
Vaughan reportedly stepped down as chief executive of the company in 2020 and sold the business.
Leaked documents and other records show previously undisclosed connections involving Vaughan, MTK Global, Kinahan and a UAE national.
Documents show that Vaughan acted as managing director of Ducashew Consultancy. Vaughan granted power of attorney to a British national named Rebecca Irene Brinkmann to represent her in all business dealings. Brinkmann, the documents show, acted as a shareholder in Ducashew Consultancy, which is owned by the Kinahans and was among the family businesses sanctioned by U.S. authorities this month.
On her LinkedIn page, Vaughan states her position as being a "director" in Ducashew Consultancy. The UAE company registry lists her as the managing director. Brinkmann, who did not respond to requests for comment, also appears in leaked documents as a legal representative for Kinahan's food trading company.
Vaughan did not respond to a request for comment.
The documents also show that a UAE government official named Khalid al Jassmi acted as the local partner for Ducashew and MTK Global.
When MTK Global declared al Jassmi as its global brand ambassador in 2018, it described him as a police academy graduate who had been serving in the UAE government for nearly 30 years. Al Jassmi could not be reached for comment.
The company's now-defunct website once boasted of Ducashew's "strong relations with [UAE] government departments, banks, and regulating bodies."
UAE registry records show that MTK and Ducashew share a Jumeirah Bay Tower address in the Jumeirah Lakes Towers complex. It's also the address for Kinanhan's food trading company.
In 2020, a son of Bahrain's king made Kinahan an adviser to his sports promotion company, called KHK. But negative publicity appeared to end the relationship about a month later.
The leaked documents also show relationships between the Kinahan brothers and several other UAE companies, including Geoson Consultancy and DJK Middle East Trading in the Ajman free zone. The purpose of those companies isn't clear.
The U.S. sanctioned a second Dubai-based sports business, Hoopoe Sports, described as half-owned by another Kinahan associate, Ian Dixon. On its now suspended website, Hoopoe Sports listed several premier boxers as clients, including Tyson Fury's cousin Hughie Fury. There is no suggestion of any wrongdoing by any of the boxers.  "Ian Dixon has arranged multiple payments on behalf of Daniel Kinahan, as well as moved bulk currency on  behalf of Daniel Kinahan in Ireland and the United Kingdom, " the U.S. Treasury Department said.
Recently, the UAE has said it has stepped up its fight against dirty money. The country's financial unit has received almost 6,000 requests for information since 2019 from international law enforcement agencies. And in 2021, it arrested more than 145 fugitives.
.
Still fighting
The gang that emerged in Dublin now has strong ties to Spain, Morocco, the Netherlands, Dubai and Colombia. Russia, too. It has flooded Europe with narcotics, including heroin, ecstasy, marijuana from North Africa and cocaine from South America.
Kinahan cartel gunmen, money men, dealers and small-time money launderers have been arrested and jailed routinely by Irish authorities since the 1990s. The Irish Criminal Assets Bureau has seized from Kinahan gang members tens of millions of euros in cash, guns, silencers, luxury cars and watches, and large quantities of drugs.
But until now, little damage has been done to the cartel's business outside of Ireland.
Eighteen people, including two innocent bystanders, have been killed in the feud that followed the Regency Hotel raid — nearly all members or relatives and associates of the Hutch gang.  Garda believe that most of the killings were carried out on the orders of the Kinahan cartel.
.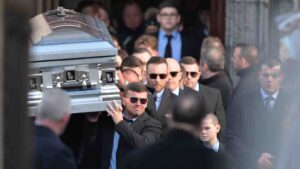 The funeral of David Byrne took place at St. Nicholas of Myra Church in Dublin on February 15, 2016. Byrne was shot at the Regency Hotel.
The UAE's freezing of the Kinahan cartel's assets has raised Garda hopes that its leaders may be extradited to Ireland even though no extradition treaty exists between the two nations. In 2017, Italian crime boss Raffaele Imperiale attended Daniel Kinahan's wedding at the seven-star Burj al Arab in Dubai.  Last month, Imperiale was extradited to Rome.
.
April 23, 2022 Published by The International Consortium of Investigative Journalists.